Tuesday, May 2, 2006, 01:42 PM - General Info
Here is an awesome site to visit if you like my MiniArcade.com site. This is MiniOrgan.com! A museum of vintage electronic toy organs and keyboards. Super dirty sounds. Lots of photos and history about the various models. Check it out. This is the project of Eric and Jaro in Germany, two very nice artists/designers/collectors. Jaro Gielens (of the Electronic Plastic website and book) designed much of the website, while the organ collection and website content is by Eric Schneider (aka musician Nothingface). Enjoy the electronic journey through dirty, cheesy sounds...
Click to visit the MiniOrgan.com Website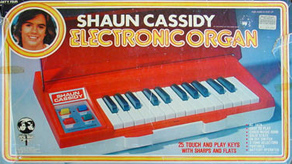 ---
Monday, April 24, 2006, 09:02 AM - General Info
This was floating around the net about 5 years ago, I haven't heard about it in a while so I thought I would unearth it again. It is a short sound sample from an old (early 1980's) japanese advertisement for nintendo game & watch handhelds. I don't speak japanese, so I don't know what is being said, other than when he says 'micro computer'! This commercial sample has only sound, no visuals - its short but sweet.
Retro Game & Watch Advertisement (quicktime format)
---
Wednesday, April 12, 2006, 09:50 AM - General Info
How cool is this? You can print off paper templates and then cut, fold, paste until you have miniature stand up video arcade game. Very nice! Gauntlet, Defender, Pac-Man, Tempest, Robotron, & Gravitar! This rocks. Someone on the forum here was talking about designing something like this with some mini-arcade tabletops, but in full scale instead of miniaturized like these. Were still waiting... :)
The Paper Arcade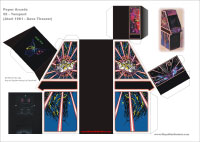 ---
Saturday, April 8, 2006, 07:59 PM - Video Games For Sale
For those who love the weird cartridge handhelds, here's one for you to get. The Game King 2! It only came out a year ago, but its totally old school. Very low budget piece of crap, greyscale, pixelated craziness. The case looks like a PSP (playstation portable) ripoff. The background on the screen, with mountain landscape, is fixed! So every single game has it in the background! If you buy one of these, you get 13 separate boxed games for it too! These are the same games that were made for the GameKing 1 (they work on either unit). The games aren't much better than the epoch game pocket computer from 1984, although some of them are pretty fun and inventive. The box art on the game boxes are worth every penny!!!! Some of them use stolen graphics from games like Unreal Tournament and Sega Moto GP. I got one from this website, and its a great weird game system to have for collecting - once they sell out I'm sure it will become an obscure rarity.
Click here to buy the Game King II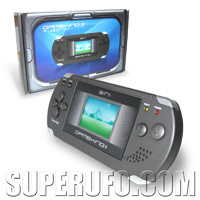 ---
Saturday, April 1, 2006, 03:29 PM - General Info
Have you played Samorost 2 yet? This online Art-Video-Game is a must see. Created by Jakub Dvorsky and Vaclav Blin. And you can play the whole game directly from your browser!
Visit and Play Samorost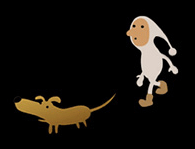 ---
Next